WASD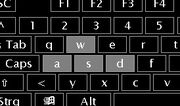 This is the standard control scheme for most games. Placed on the left side of the keyboard and with many other keys directly around it, many players prefer this way of controlling their games.

It is quite problematic for gamers with disabilities. While WASD controls mostly make perfect sense in Shooters it is not understandable why so many games utilize it despite accessibility friendly alternatives like click to move, etc.
Ad blocker interference detected!
Wikia is a free-to-use site that makes money from advertising. We have a modified experience for viewers using ad blockers

Wikia is not accessible if you've made further modifications. Remove the custom ad blocker rule(s) and the page will load as expected.